Making the Decision Support System Work
Work Package: Turning the Water Management Tool into a Decision Support System
Challenges
The basic module of the Water Management Tool (WMT) is ready but still requires information that is important for taking reasonable water management decisions. Missing information includes data on the Chaharmahal-va-Bakhtiari province in the upper catchment and the significance of ground and surface water salinization for the water demand of crops. 
Project Activities
In addition to the missing data on the Chaharmahal-va-Bakhtiari province and salinization, model variations and alternative strategies will be included into WMT in the form of agricultural transformation, industrial development and sustainable groundwater management scenarios.
In order to guarantee the completeness and acceptance of WMT by the Iranian partners the following joint activities for the second project phase have been defined:
Further development of WMT by applying stochastic methods in water management.
Catchment areas located in Chaharmahal province shall also be included.
Extension of WMT by a model for ground and surface water salinization prognosis.
Development, modelling and assessment of adaptation strategies and development scenarios.
Throughout the project implementation, Iranian experts from different institutions receive training by using the final models in order to ensure their independent handling of the management tools after the project completion. A training module for the IWRM related application of WMT will be developed and carried out.
MIKE Basin model setup.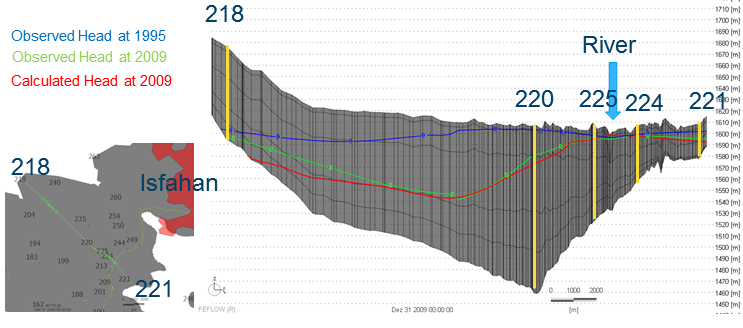 FEFLOW groundwater model: Cross section views through sub catchment Najafabad.
Expected Outcome
The Decision Support System (DSS) is supposed to be used as a main instrument in the RBO in support of decisions for a sustainable management of the Zayandeh Rud catchment. Its integrative character makes it possible to use its outputs for developing and implementing different, harmonized measures at the same time.
Contact:
Dr. Michael Kaltofen, DHI-WASY, kal@dhigroup.com